Keep the heat on Beacon Hill to stop vocal cord mutilation
URL: www.caps-web.org
Publication date: 2009-12-01
Publication name: Coalition to Protect and Rescue Pets
Headline: Keep the heat on Beacon Hill to stop vocal cord mutilation
Summary: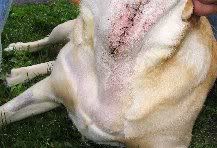 An AKC breeder had Stella's vocal cords cut to stifle her voice–then dumped her. A kind rescuer, who lives in Quincy, spent $1,500 to correct scar tissue that obstructed her airway, in the hope it may give Stella a shot at a normal life. Without it, she would have died.
Devocalization is more common than you think; in fact, some breeders devocalize routinely to keep many dogs without complaints from neighbors. Occasionally, an irresponsible or uniformed pet owner will order the convenience surgery, leaving his or her "best friend" mute or chronically hoarse.
There are serious risks regardless of the vet's skill or how the vocal cords are cut, through the oral cavity or an incision in the neck. Some animals die. Others struggle to breathe, choke on food and even water, and gag and cough uncontrollably the rest of their lives. And devocalized dogs and cats don't benefit at all: They're abandoned like any other unwanted animal. An Act Prohibiting Devocalization, House Bill 344, would end this cruel practice in Massachusetts.
Deep pockets are fighting this humane legislation.
The Mass. Veterinary Medical Association–which represents vets' financial and other interests–has aligned with Mass. Federation of Dog Clubs, a breeders' organization, to fight this humane bill. They have big money, big constituencies, and big lobbying firms.
You have power too: Your voice. Please use it to protect defenseless dogs and cats from being robbed of theirs. Every call is important. Yours will make a difference.
No matter where you live in MA, you can help — all you need is a phone!
1) Live in Worcester County? http://en.wikipedia.org/wiki/Worcester_County,_Massachusetts
Call Rep. Vicent Pedone at 617-722-2410 or 508-791-7400. He chairs the Third Reading Committee, which is currently reviewing this bill. Politely urge Chairman Pedone to release An Act Prohibiting Devocalization quickly–as written, so it can be enforced.
· The longer Third Reading holds the bill, the less chance it will become law.
· If Rep. Pedone alters it as special interests that profit from devocalization wish, it will be unenforceable. Dogs and cats will continue to be maimed.
2) Live in Winthrop or Revere?
Call House Speaker Robert DeLeo at 617-722-2500. As the most powerful legislator in the MA House of Representatives, he can help ensure this bill passes as written. Politely ask for his support to move An Act Prohibiting Devocalization, House Bill 344, to the Floor for a vote quickly–without amendments that would undermine its intent.
3) Live elsewhere in MA?
Urge your State (Beacon Hill) Rep to send a letter expressing his/her support for House Bill 344 to Speaker DeLeo and Rep. Pedone. Tell your Rep you want his/her help to ensure the bill becomes law, as written, in 2010. Ask for a copy of the letter, and follow up until you get it!
How to find your State Rep (on Beacon Hill, not in DC): 1-800-462-8683 or www.wheredoivotema.com, enter your address, then look for your "Rep in General Court"
Helpful hints: Read before contacting your Rep
Calls are effective; emails are not. Emails may be deleted without being logged in (or read). If you can't call, sending a hard-copy letter or fax is second best.
Let your Rep know why this bill is personally important to you–and that you will be following it closely.
If you get voicemail or are transferred to a recorded line: Be sure to leave your name and address to prove you're a constituent, with a short message of support for House Bill 344. Try to call again till you can speak with an aide.
Call every three weeks till the bill passes. The legislative process is long, and opponents are determined to kill this humane legislation. Don't let lawmakers forget that kind constituents like you want it to pass.
Visit your Rep in the district or at the State House if you can.
Always be polite! Some aides are more pleasant than others. Take the high road, and save your outrage for devocalizers!
Get the word out–squeaky wheels pass laws.
Help generate calls to legislators by giving flyers to neighbors, coworkers and others. Contact CPRPets@aol.com" target="_blank" data-mce-href="mailto:CPRPets@aol.com">CPRPets@aol.com for flyers.
Post the following youtube links to Facebook, Twitter or your website. Send them to friends and family throughout the U.S. to raise awareness of devocalization.
Learn about devocalization.
Meet devocalized dogs and their rescuers:
http://www.youtube.com/watch?v=hZPoyuMw870
Hear what animal experts have to say:
http://www.youtube.com/watch?v=W4ADbMoX4aw
An Act Prohibiting Devocalization, House Bill 344, is sponsored by
Coalition to Protect and Rescue Pets, an all-volunteer network of
Massachusetts pet owners and advocates.
It is endorsed by
Angell Animal Medical Center, animal shelters statewide and
more than 200 concerned MA veterinarians. Make sure your vet is among them!
Devocalization is Brutalization.
Use Your Voice to Pass MA House Bill 344!